Scaleway is an unmanaged cloud hosting service that is competing with Linode, DigitalOcean, Hetzner, Amazon, etc. It is owned by Iliad SA, one of the top telecom companies in France. Scaleway web hosting plans are cheaper than most of its competitors. Its servers are powered by SSDs and Intel XEON series processors.
Should you sign up with Scaleway? What plans does the hosting provider offer to its users? Here's our review of Scaleway hosting:
UI
The Scaleway admin interface is the same as that of other cloud hosting services provides. It is easy to use. This interface allows you to set up a cloud server, manage accounts, etc. During the registration process, users are asked to verify their phone number. Once your number is verified, you must provide details of your American Express, Master Card, or VISA credit card. If you don't link one of these cards, you won't be able to create your cloud server.
The web hosting provider supports Debian, Ubuntu, and Centos operating systems. In case you want to use a different Linux distro, you can flash a custom image to your cloud VPS in Scaleway. SW offers a one-click installer tool with which you can install LEMP stack, WordPress, ruby, Discourse, Java, GoLang, and many other applications without typing commands.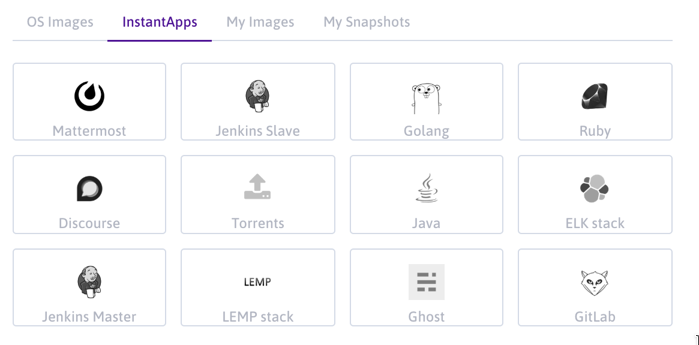 Scaleway provides an option to enable SSH, SMTP, and create an image of your server's storage. It gives users full root access. Thus, users can log in to their servers and make changes to configuration files as per their requirements.
Plans
Scaleway provides 18 plans that are categorized into the following 4 groups:
Starter plans
Plans in this category are suitable for sites that require up to 8GB system memory. The cheapest plan in this category costs 1.99 Euros. It offers 1GB RAM and a single core processor. The bandwidth and storage memory allocated to this server is 100 Mb/s and 25GB SSD respectively. The next plan i.e.1-S is priced at 3.99 Eu. It gives you a server with 2 core CPU, 2gb ram, 50 GB SSD, and 200 Mb/s network speed. 1-M plan of this category has servers with 4GB RAM, quad-core processor, 100GB SDD, and network speed of 400 Mb/s.
Plans for servers with ARM CPUs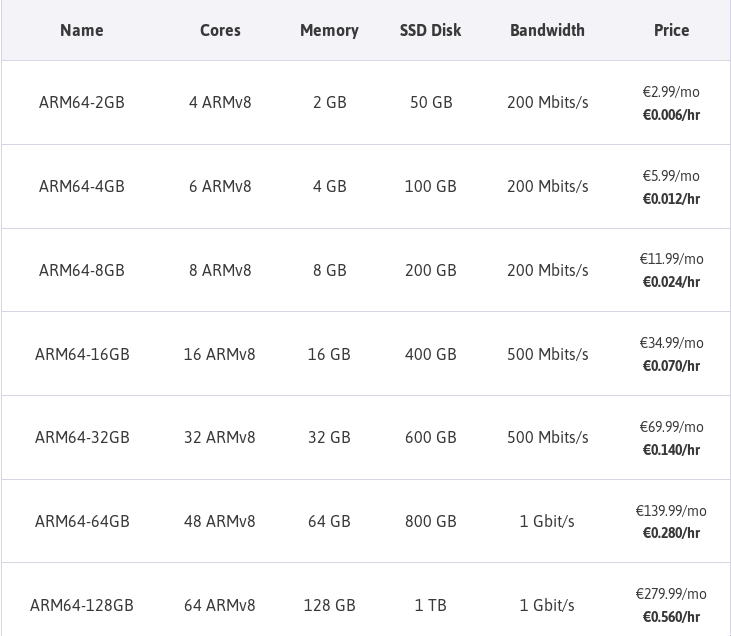 Pro plans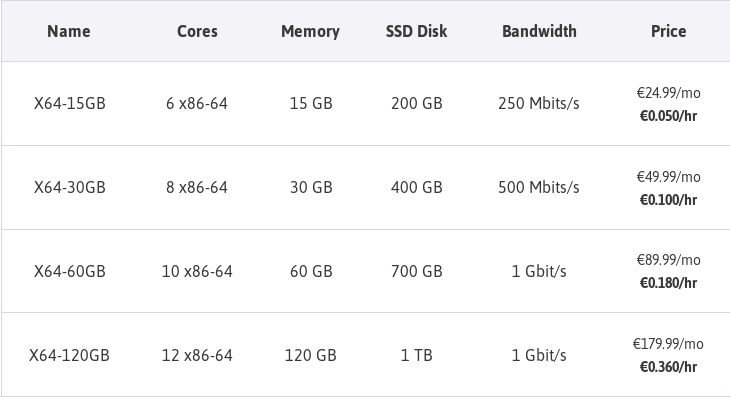 BareMetal server plans
The users of BareMetal servers enjoy data transfer speed of up to 600 Mbps. According to Scaleway, the bare metal server will host only your sites. The plans start at 2.99 Euros per month. The Scaleway bare metal servers are powered by ARM or x86 CPUs. The company offers 4 plans, C1, C2S, C2M, C2L. Each server has 50GB SSD. The most expensive plan i.e. C2l allows you to attach 250GB SSD. Here's the list of bare metal server plans Scaleway is offering:
C1 (priced at 2.99): 4 core CPU, 2 GB RAM 200 Mb/S bandwidth
c2s (priced at 11.99), 4 x86 64-bit CPUs, 8GB RAM, 300 Mb/S bandwidth
c2m (priced at 17.99), 8 core 64-bit x86 cpu, 16 GB RAM, 500 Mb/s
c2l (priced at 23.99), 8 core x86 64 bit processor, 32GB RAM, 600 Mb/s.
Support
Scaleway provides free email/ticket based support to customers. The support staff are available 24 x 7. When you create a ticket, the staff will reply to your query. The company has not revealed the time frame in which Scaleway will respond to your ticket.
The cloud hosting service provider allows you to upgrade support if you need a quicker reply from the support staff or faster resolution to the ticket you've created. The cheapest paid support plan is priced at $2.99. Users who go for this plan will get a reply from the Scaleway staff within 12 hours of raising a ticket.
The most expensive support plan costs $499/month. Users who opt for this plan will enjoy phone support in addition to ticket based support. The staff will reply to the ticket within 30 minutes.
Documentation
Scaleway provides free access to several tutorials. Its knowledge base is not as extensive as that of Linode, DigitalOcean, etc. If you need help, you can go through a tutorial published on other sites.
Data Centers
Scaleway is a Europe based company. It has data centers in France and Amsterdam.
Should you use Scaleway
I went through a lot of reviews of Scaleway on Reddit. Most of the reviews were mixed. Some users had issues with billing, performance, hardware, support, etc. If you're getting started with blogging and you have knowledge of Unix administration or you want to test your app online, you can go for Scaleway. If you have got a site with good traffic, you should look for some other web hosting service.
Final thoughts: Although Scaleway is not as popular as Amazon Lightsail, Linode, DO, Hetzner online, its plans are attractive and cheap. Also, its server administration interface is easy to use.