Affiliate marketing is one of the best ways to earn money online and the best way the developers/creators can make money online is by listing their product on an affiliate marketplace.
Jvzoo is one of the largest and best online affiliate networks. It went live in 2011. If you're planning to monetize your site with affiliate links, register an account with Jvzoo and join an affiliate program of your choice.
What happens when you apply for an affiliate program?
Well, the seller will review your application. He may approve or disapprove your application.
JVZOO is the home to 1000s of affiliate programs. You can join as many programs as you want. When you're exploring the programs, you can see the product's ratings, EPC, Conversion rate, number of units sold, commission percentage, average price, etc. You can sort the items by these 7 metrics. Users can search for products by their name. They can also filter items by their category.
Jvzoo enables users to create widgets for the programs they've joined. You can customize the widget's color, width, height, etc. Affiliates in Jvzoo are allowed to set up affiliate bonuses. The bonuses are not provided by the seller. You'll have to upload a bonus created by you. The bonus can be a tutorial, tip, application, etc. This feature increases the chances of the blog/website visitors buying a product after clicking the affiliate link.
How you'll be paid?
Once your earnings reach the payment threshold, Jvzoo will transfer the commission you've earned to your PayPal/stripe account.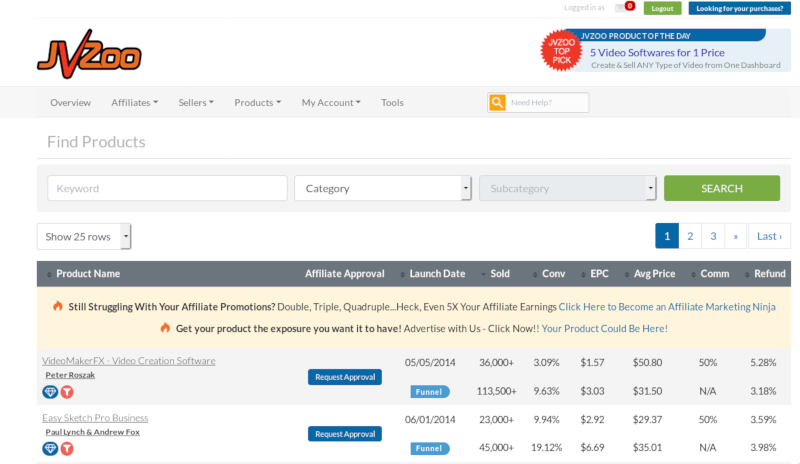 The process of becoming a Jvzoo seller
Selling a product is easy on Jvzoo. To list your product, you must have a PayPal, Stripe, Authorize.net account. Users must link one of these accounts with Jvzoo.
To list your item on Jvzoo, you must fill a form. The form has many text fields. The fields ask you to enter the product description, set a price, upload images, set refund policy, terms and conditions, etc. You'll also see an option to enable affiliate program for your product. Make sure that you fill the form to increase the chances of your product getting approved by a Jvzoo staff.
Jvzoo URLs must be placed on a page that doesn't have links to third-party payment services. If the link on the sales page contains internal links, make sure that the linked pages have JVZOO payment URL.
If your product is not eligible or lacks some details, it will be disapproved by the Jvzoo staff. Jvzoo will make you aware of the things you need to change in your application/form. You can change the details and re-submit your application.
Other networks charge a hefty fee for selling products on their platform. Jvzoo doesn't charge sellers and it offers similar features as other affiliate networks.
Jvzoo lets buyers subscribe to the updates from sellers. Hence, when your favorite seller launches a new product, the subscriber will be the first person to know about it.
If you've created multiple sales pages, you run split tests to learn which sales page has resulted in a better conversion. JVZ allows sellers to export the details of their customers. It also lets them ban affiliates which are misusing their products or have broken the terms.
Statistics
Jvzoo displays your earnings, number of items you've sold and the amount your product has earned to you on its main interface.
API
If you want to integrate JVZOO features in your product, you can do so by using the Jvzoo API. The API is easy to use. To use in your application, you'll have to create an API key.
Other features
If you're a seller, you can filter data by date. Jvzoo lets sellers set up a sales funnel and create coupons.
Pros
Many features.
Sellers don't have to pay a fee to publish their products.
Cons
Conclusion: Jvzoo puts your product in front of the 1000s of affiliates and buyers. It is one of the best affiliate places on the internet.
Features

Pricing (for sellers)

User interface
Summary
Jvzoo is one of the best affiliate networks right now. If you want to make money online, join an affiliate program on JVZ or become a seller by publishing your product.