If you own a brand, creating an impressive logo to represent it should be at the top of your to-do list. The logo you have made will be the first thing your potential clients see in many cases. So, better make it count.
It should be something unique to attract attention as well as make your brand stick out from your competitors. Where do you start, though? Firstly, get a good logo design application such as Canva logo maker. It can make the whole process a piece of cake.
Canva logo maker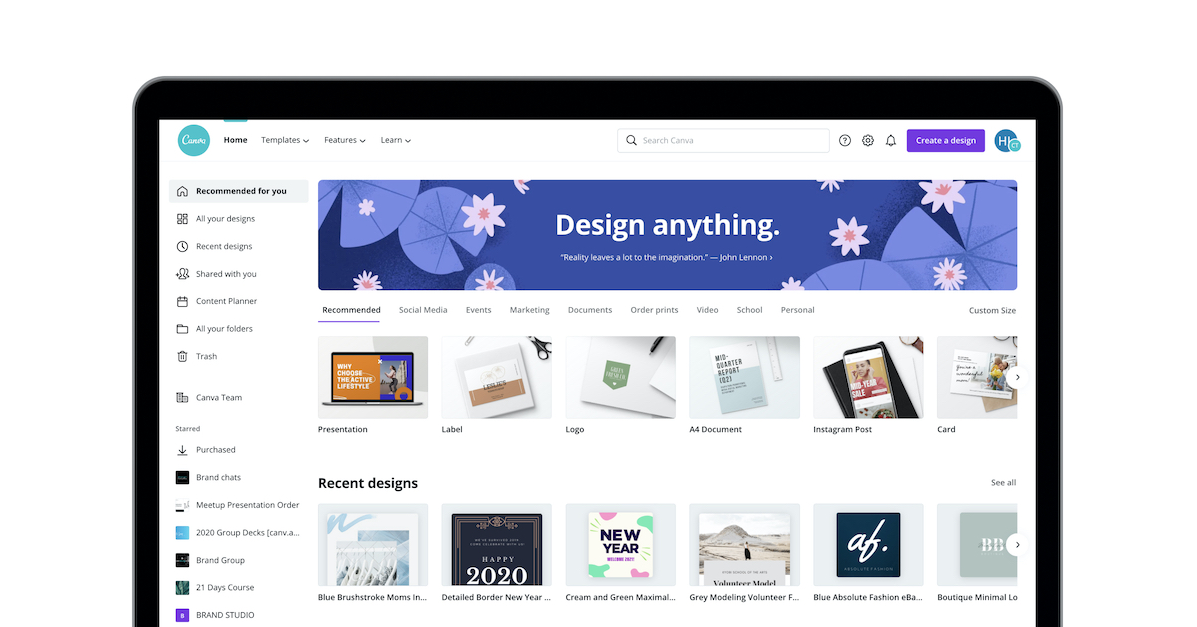 Canva logo maker is a great solution for making the perfect logo. Thousands of excellent ready-made templates are available for you to use. Searching and browsing through the library of templates is as easy as it gets since the interface is clean and simple.
Naturally, the premade templates can all be customized as much as you like. Canva logo maker has millions of free-to-use illustrations, icons, and other graphic elements you can use to take your brand's logo to the highest level. With the help of Canva logo maker and its nifty features, you can make it as unique as possible.
Your logo can be infused with beautiful styles of various fonts for that extra cherry on top. There are plenty of those to choose from.
Next up, here are some tips and tricks to help you successfully create a great logo for your brand so you can represent it in the best possible light.
Keep Up With the Trends
Of course, creativity is key when it comes to design of any kind, so this applies to logos, too. Check out what other brands, especially your competitors, are going for. See what works for them, and what doesn't. Then, use those little hints to see what you can fit into your own logo, all while keeping it fresh and unique.
Opt For a Style
There are many styles of logos you can go for. Just browse through Canva logo maker and its vast library to see what you might want to go for. Your brand's aesthetic should be kept in mind, too. Do you want it modern, or old-school? Minimalistic, or a bit more detailed? Whichever style you choose, make sure you are completely satisfied with your choice since this will be the base for everything else.
Create an Outline
Even if you aren't artistically inclined, you should be able to sketch a thing or two. Either by hand or digitally. With the last 2 points in mind, try to roughly sketch something that would work for you.
Get the Colors Right
Surely, you would want your brand to stand out as much as it can. That's why your logo needs to stand out, too. And what better way to do that than with smart use of colors? Often, the first thing people think of is the color of a logo, such as a yellow M, or a blue F. Just by mentioning a single letter and the color, you must know what brands we're talking about.
Do a Few Different Logos
Experiment until you get it right. However, you might subjectively think one version of the logo you have made is better than the other. Get some feedback before you opt for the final one, though. Ask your coworkers, friends, family which of the logos stands out the most and looks the cleanest.
Conclusion
With Canva logo maker, creating the perfect logo is as easy as ABC. Just browse through its library, find the template you like, and get the most out of it by personalizing it with its plentiful customizing features.