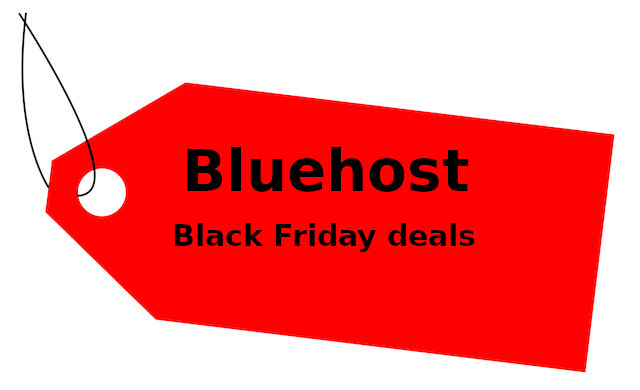 In the last week of November every year, Bluehost organizes the Black Friday/Cyber Monday sale wherein it offers a mouth-watering discount of up to 60% on its most popular products. This year's sale is no different. The Bluehost Black Friday Sale 2020 is now live and the hosting giant is offering a 30% discount on domains, 40% off on online store plans, and 60% off on web hosting plans. Should you buy a hosting plan during the sale? What features do the products available in sale offers to the users? What type of sale has BH organized this year? Here are the answers to these questions:
Bluehost Black Friday deals 2020
The following web hosting plans and products are being offered at a discounted price from the 18th of November 2020. If you've visited the BH website in the past, you may know the hosting plans of BH are always on discount. What is the difference between the two discounts? During Black Friday/Cyber Monday, the discount the company offers is 5 to 10% more than the discount the company offers on non Black Friday days. This year's sale has begun early and it will last for 2 weeks. Anyways, here the products that are available for purchase at a great discount in the ongoing BF/CM sale:
Whether it's the sales day or not, Bluehost always offers a free domain to the buyers of its hosting plan. This Black Friday, you'll not only get a domain name of your choice at no additional cost but you can also purchase one of the following Bluehost hosting plans at a great price:
Basic plan
This plan of Bluehost supports 1 website. It offers 50GB storage space, 5 email Ids with 100 MB storage space for mails, etc. It supports up to 25 subdomains and 20 databases. The max size of the database in the servers offered with the Basic Plan can be 5GB. This plan is now being sold at just $2.95 instead of $8.99 (60% off).
Plus
With this Bluehost plan, you can launch/deploy unlimited sites. BH provides the SpamExperts protection module for 1 domain and unlimited storage memory. You can create unlimited branded email Ids and databases if you buy the Plus plan during the Bluehost Black Friday or Cyber Monday sale. This plan costs just 5.45 USD instead of $11.99
Choice Plus
In addition to the features the Plus plan offers to the users, Bluehost offers an automated backup service to the users of the Choice Plus plan. Backups can save a website or help users in fixing a broken plugin/theme update quickly and easily. The Basic/Plus plan users have to back up their website data and files manually. If you buy the Choice Plus plan, you won't have to do so. This plan is currently priced at $4.95. On non-Black Friday days, it costs $16.99
Pro
The Pro plan of Bluehost is the slightly modified version of the Choice Plus plan. Bluehost provides the SpamExperts protection module for 2 domains and a Positive SSL certificate to the users of this plan. The performance of websites powered by the Basic, Plus, Choice Plus plans is standard whereas the performance of the websites hosted by the Pro plan will be high. The PRO plan is currently available for $13.95 instead of $26.99.
Discount on shared hosting is the most popular Bluehost Black Friday deal.
VPS hosting
The following Bluehost VPS plans are on sale right now:
Standard
A VPS with 2 GB RAM and 2-core processor will be offered to the users. This VPS has a 30GB storage capacity (SSD). It can transfer/receive up to 1TB data.
Enhanced
This VPS plan offers a server with a 60 GB SSD disk, dual-core processor, and 4GB RAM. You'll also be offered 2 IP addresses and 2TB bandwidth.
Ultimate
A VPS with 8GB RAM, 4 core processor, 120GB storage memory will be offered to the buyers of the Ultimate VPS plan of Bluehost. The bandwidth for the plan is capped at 3TB.
The above three plans are available for purchase at $18.99, 29.99, $59.99. On regular days, Bluehost sells it for $29.99, $59.99, and $119.9 USD respectively.
Dedicated hosting
Standard
This dedicated hosting plan of Bluehost gives uses access to a server with a massive 500GB storage memory, a powerful quad-core processor, and 4GB RAM. It offers 3 IP addresses and 5TB bandwidth.
Enhanced
The Enhanced Bluehost dedicated server plan offers a higher-frequency processor than the Standard plan. Also, the server has 8GB RAM and 1TB storage hardware. The hosting provider also provides 4 IP addresses.
Premium
The Premium dedicated Bluehost servers have 16GB RAM, 4 core processor, and 1TB storage memory. The company offers 5 IP addresses and allocates 15TB bandwidth.
Features of Bluehost you should know
Recommended by WP: Managing or starting a WordPress blog with Bluehost is so easy that even the developers of the WordPress CMS recommend Bluehost.
Free CDN and SSL: You can activate free Cloudflare CDN service for your website and an SSL certificate with a click of a button.
Free domain: Very few hosting companies bundle a free top-level domain with their web hosting plans. Bluehost belongs to the list of such companies.
Technical support: Users of Bluehost enjoy 24 x 7 live chat, phone, and email support for the entire year.
Money back policy: You can ask for a refund within 30 days of purchasing a Bluehost web hosting plan.
Custom PHP configuration, cron jobs, error pages: Some of the plans of Bluehost let users modify the .htaccess and PHP.ini files. They let users set up a cron job for some tasks. They also allow users to use their custom-built error pages that will be displayed when the user has encountered an HTTP error while accessing your website page.
Adwords Credit: Bluehost offers $200 ad-credit (Adword/Microsoft) to its customers. You'll get $100 credit each in your AdWord/Microsoft ad account when you spend $25 with these two services.
WordPress updates: The company's staff will update the WordPress content management system every time WP rolls out an update.
Final thoughts: The Bluehost Cyber Monday and Black Friday deals are now live. BH offers such big discounts on its products only once a year. Thus, don't miss this opportunity if you want to host your website with Bluehost or you want to start a new blog or you want to move your websites to a trustworthy company's servers.