Business owners are always in search of new ways to increase their business and revenue. One of the strategies they adopt is directory listing. The business owners find online directories that accept free or paid submissions and submit their business. For those who don't know, directory submission is one of the fastest and best ways businesses can get new leads and customers.
If the directory site is ranking well or offers ad slots, the business owner will be ready to buy an ad slot or upgrade to the paid listing or he will pay money to be accepted in the directory. Yelp, the largest business directory in the United States is a great example of this. The company reports revenue of 200+ million USD every financial quarter. This proves that directory sites can be a great source of income.
Directory sites are difficult to build from scratch but with WordPress, you can launch a great-looking business listing site within a few minutes. The versatility of the WordPress content management system allows you to launch any type of directory site without writing code. For example, you can easily launch a directory of restaurants, hotels, schools, shops, doctors, etc with WordPress.
If you learn to build apps and decide to build a directory site from scratch, it can take anything between a month to a year in designing, testing, building the site (this excludes the time you've taken to learn to write code). If you choose the easier way i.e. hiring a developer, you may end up paying 500+ dollars as a fee. But if you choose WordPress, you'll only have to spend money on hosting and a theme. I've shared reviews of hosting companies on this site. For high-quality SEO/mobile friendly directory themes that support Google Maps, listing manager feature, customizations, go through the below paragraphs:
Best WordPress directory themes
ListingPro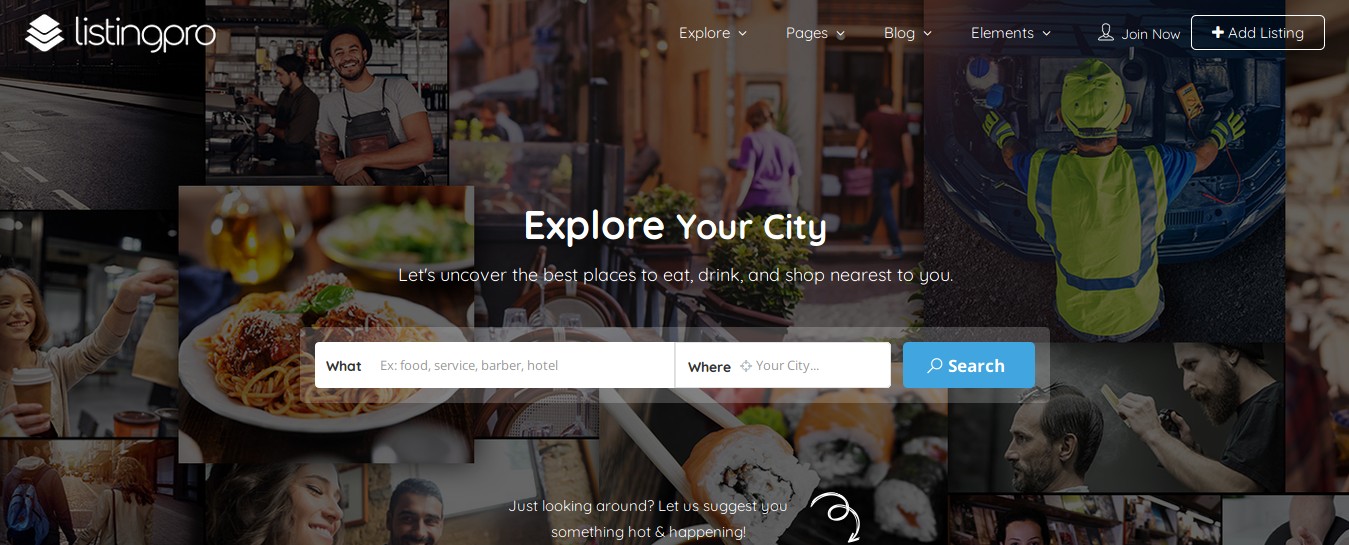 LP is a premium WP theme that has been developed by CridioStudio. It has 12000+ users and a rating of 4.80/5 on ThemeForest. The template can auto-fill the business address. This feature is powered by the Google API. ListingPro supports live search and it enables you to filter results by distance, features, or custom fields of your choice.
ListingPro enables you to accept premium/paid listings and has a built-in rating and review system. Once a business finds their listing in Google, Bing, or any other search engine, they might want to claim it. ListingPro has the "claim" feature built-in. It is super easy to use. Other features of this theme are as follows:
Video testimonials, image gallery.
Support for blogs, live search.
Ads Manager, Checkout option with tax details.
Recurring payments with PayPal.
Options to create coupons, new deals, and more
ListingPro costs $69.
Listify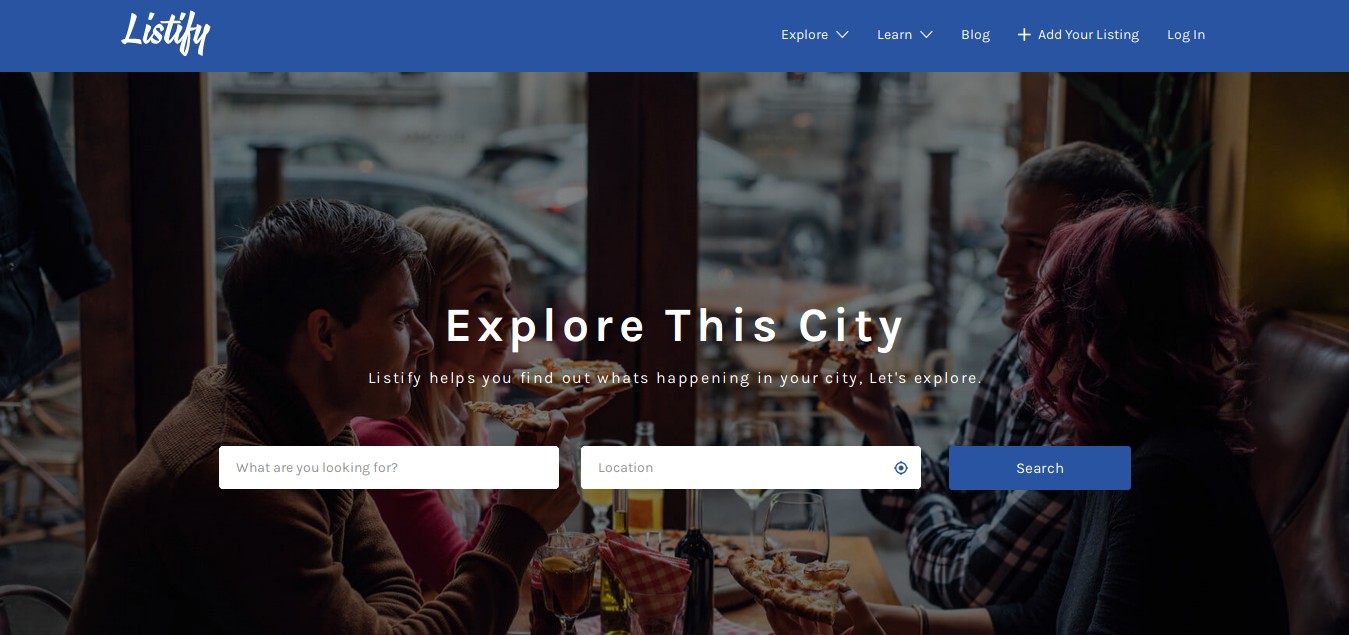 Listify was launched in 2014. It has 16000+ users and a rating of 4.42/5 on Themeforest. Instead of enabling all features, the WordPress directory theme gives you the option to enable/disable the plugin you want to use. For example, to use the statistics feature, you can use the "Statistics" plugin. Likewise, to enable and use the "Registration" module you should activate the "WC Registration" plugin. Once you buy Lisitify, you can use the theme on as many sites as you want. The support is limited to 6 months. Once your support ends, you'll have to renew it.
Other features of the Listify theme are as follows:
Locate Me feature to filter listings by the city or area.
Demo import, support for ad spaces, appointment/reservation system built-in.
Support for Contact Form 7, NinjaForms, Gravity Forms, WooCommerce, etc.
The template is priced at $69.
ListGo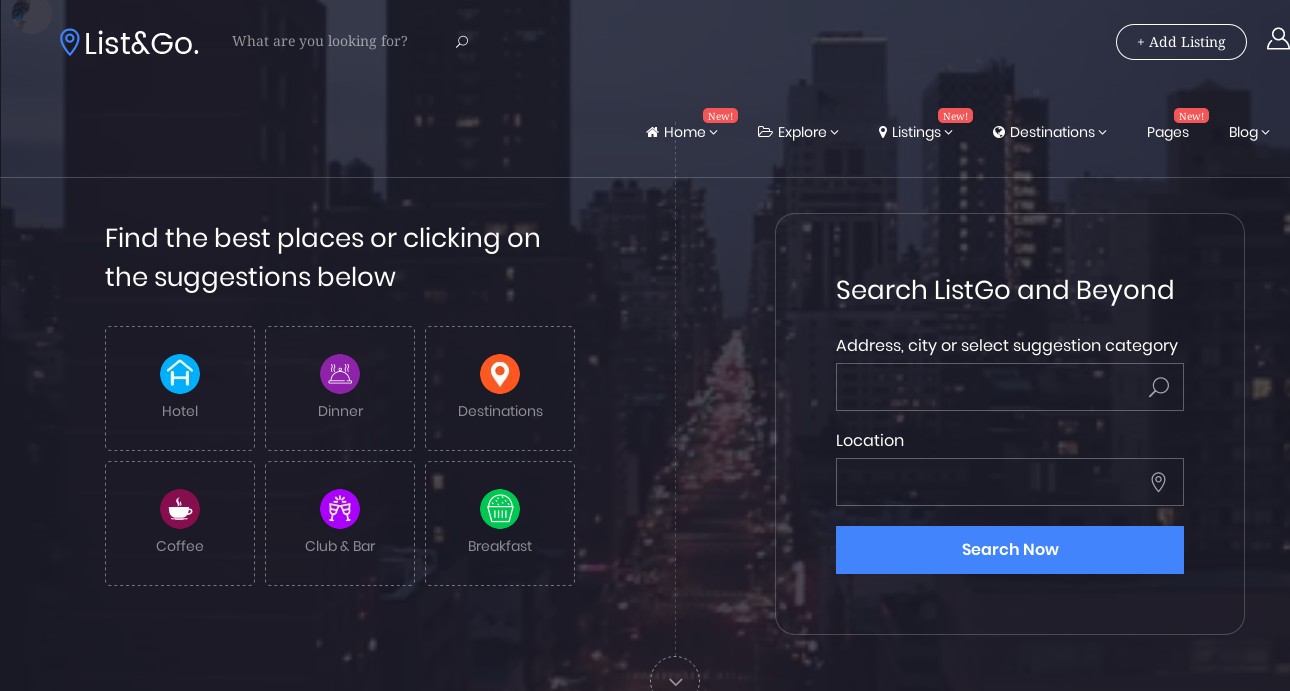 ListGo supports integration with Facebook Messenger. If the person who has submitted/registered his business is using Facebook, he/she can chat with their customers/listing visitors with Facebook Messenger. The theme enables you to set up recurring payments with trials. Once the trial period of the user expires, he'll have to pay the money.
Other important features:
Integration with TimeKit dot IO, Toggle Contact form.
Discount option, sidebar search widget.
Stripe payment gateway integration, Google re-captcha integration.
Nearby events feature.
Support for WP import plugin.
Half maps support, etc.
ListGo is the most expensive theme on our list but considering the cool features it offers, it's worth the money. This template costs $100.
Directory+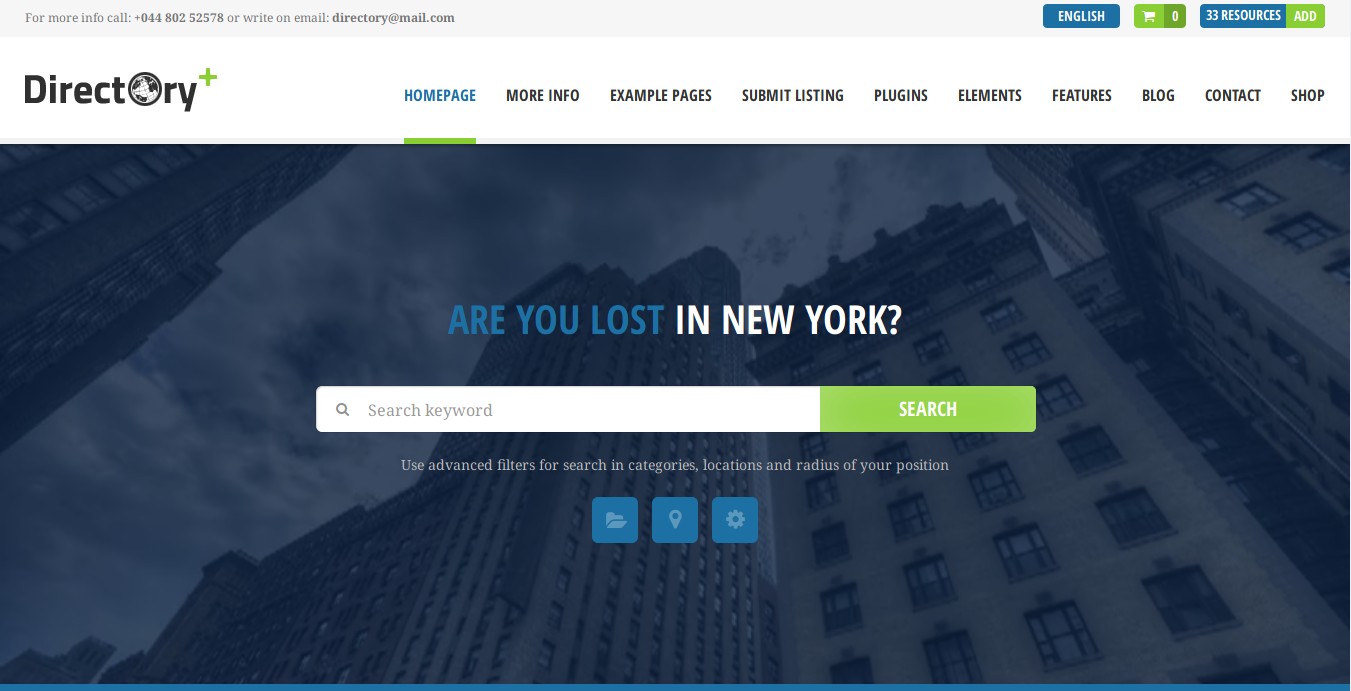 Priced at $69, D+ provides a custom-built page builder tool called AIT builder. For those who are not aware, page builders display a drag and drop interface and a list of elements. To design a page, you should drag the HTML element to the position of your choice. Once your design is ready, you just have to publish the page. When you do so, your audience can/interact with it. D+ offers 30+ elements. The Directory Plus theme supports seven different header styles that include video header, simple/3d Google map header, slider, etc. It supports WooCommerce and over 22 languages.
Other features:
Google Fonts and Google Street View support.
SEO tools, mega-menu, video/image/map header.
KM/Miles format support. etc.
Learn more about Directory Plus
Listable
The Listable WP theme is similar to other themes and it costs $85. It has 8900+ users and a rating of 4.42/5. The Listable WordPress directory theme has been tested with the Visual Composer, Beaver Builder, MotoPress, SiteOrigin, JetPack, PixTypes, Menu Icons, and many other plugins. Listable was launched in 2015. It was last updated this month.
Why buy a directory theme?
Customization: The above themes ship with a theme options panel where you'll find tons of options. Also, the templates support the WordPress live customizer tool i.e. you can customize the site and see the changes in real-time.
No coding required: The directory themes have complex components such as filters, Google Maps, etc built-in. It takes just a few minutes to configure and use the features.
Support: The developer will offer updates and will respond to your queries. Unless it is not related to the theme, you won't have to fix things yourself.
Search engine friendly: Directory sites have a complex structure. As the templates I've shared above support the best WordPress SEO Plugins, they're SEO friendly.